Giving Tuesday – December 3rd!
You've heard of Black Friday and Cyber Monday? Well here's a new day in the Holiday Season – a day to give back! #GivingTuesdayca GivingTuesday.ca
The Crayola Sale Triumphs Again!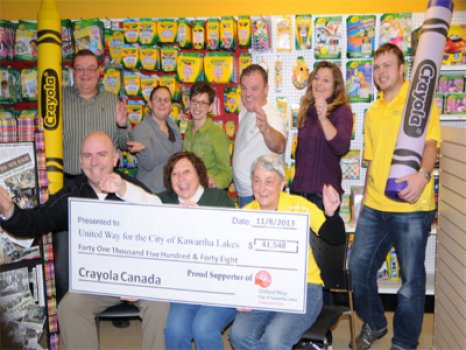 Our 2013-14 Campaign received an enormous boost towards our goal this morning when Crayola Canada proudly presented us with a cheque for over $40,000. A BIG thank you to Crayola Canada, Lindsay Agricultural Society, our fabulous volunteers and of course all of the excited shoppers!!
Congratulations to the Crayola Gift Basket Raffle Winner!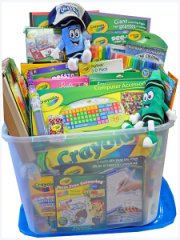 We would like to thank everyone who came out to the 25th Annual Crayola Sale. It was definitely a full house! We hope everyone had a blast and found some great deals. A BIG congratulations to Crystal Jessup of Peterborough, ON, who is the winner of the Crayola Gift Basket valued at $600.
Congratulations to the 100 Mile Dinner Raffle Winners!
Thank you on behalf of United Way CKL and KCFF to everyone who purchased a ticket and came out! It was a great night and we hope to see everyone again next year!
Gary Kennedy
Carson Durward
Carolyn Lewis
M. Davies
Jeanne Blewett
Heather Richardson
Kathy Simpson
Congratulations to the 2013 Duck Derby Winners!
United Way for the City of Kawartha Lakes would like to thank everyone who came out and purchased ducks at the annual Duck Derby in support of the United Way CKL and the Coboconk Lions Club. We would also like to congratulate all of the winners listed below on their fast swimmers! It was a great day and we look forward to seeing you and your ducks again next year.
1st Place: Arlene Ray, Aurora
2nd Place: Carly Wiseman, Toronto
3rd Place: Jason Vaughan, Bobcaygeon
4th Place: Rick More, Coboconk
5th Place: Ashlyn Macey, Barrie
Give.Volunteer.Act
The United Way along with many non-profit agencies, businesses and government have made a measurable difference in the City of Kawartha Lakes. Our donors and volunteers are critical to the success of our community. The agencies we support financially, and through collaborations, are committed to the people who live here. Together, we offer help and hope. Collective caring defines this community as one where we want to raise families, retire and work.
By bringing citizens from all parts of our community to identify opportunities for sustainable growth and to address critical challenges, we ensure that the donations we receive go where they are needed the most… and where they will have the greatest impact.